General Details
2 MODELS - BALE DIMENSIONS FROM 90-150 OR 90-180 CM
Customers have helped design the new range of balers. Quick baling at high and consistent density is an important requirement in order to collect valuable crop during the narrow window of opportunity and preserve its quality. This is what Case IH variable balers are all about!
CAPACITY AND DENSITY GO TOGETHER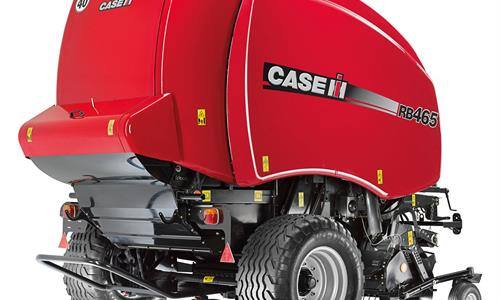 We integrated a multitude of features into the new RB design so that every model is capable of following the largest combine or baling the heaviest crop with remarkable speed and efficiency. The bale size can be altered and monitored from the comfort of the tractor seat and the wrapping system is unbeatable – so there's no need for you to worry about the crop type or conditions; you just follow the swath.
MONITOR

Performance at your fingertips: intuitive control of the baler with a black/white control box or with the advanced ISOBUS compatible colour monitors – suited to all types of tractors and customer requirements.

HIGH SPEED PICKUP

Clean pick up of all crop types: choose from the standard 4-bar or heavy duty 5-bar pickup with heavy duty tines. The new double auger option with integrated feeding roll allows high capacity baling in large windrows.

ROTOR CUTTER & DROP FLOOR OPTION

Work in comfort: choose from rotor feeder and rotor cutting versions. In the latter the 15 knives, protected from stones, can easily be replaced without using tools. The drop floor allows quick clearing of any foreign material without leaving the tractor seat.
NEW BELTS

Minimum crop losses: the endless belts keep a strong grip on the bales and with four belts losses of valuable crop are cut to a minimum.

DUAL DENSITY OPTION

High efficiency, high quality: the dual density option enables you to add extra weight to the bale, making this an industry leading high density baler. Fewer, heavier bales require less transport and storage, and promise higher silage quality.

SERVICEABILITY

Ground access: all service points can be easily reached thanks to wide opening doors that provide easy access. The baler is fitted with long life heavy duty chains which are lubricated each time the rear door is opened. Net rolls are easily changed from ground level.
Downloads
Brochure
File Name: 13c3001_rb_variable_lf_com_final_low.pdf,
File Size: 445 Kb