General Details
Maxxum CVX new
4 MODELS FROM 116 TO 145 HP
We regard ease of operation as a key characteristic of our technology, and that's why, although Maxxum CVX models may be the flagships of the range, they are just as easy to get the most from as every other Maxxum tractor.
YOU NEVER HAD A WIDER CHOICE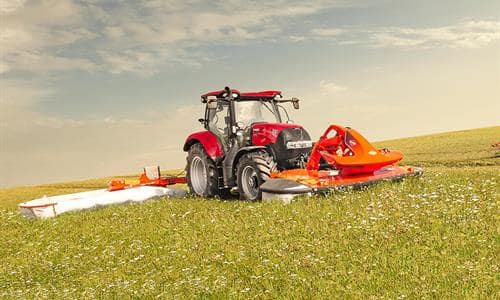 From the outside, you'll notice that Maxxum CVX tractors look strikingly different to their predecessors, with sharp fresh styling and improved lighting. But it's what you can't initially see that makes these tractors so different to their forebears. From the latest FPT engines – more frugal, cleaner and with greater power outputs than before – to operating feature updates designed to make your life easier.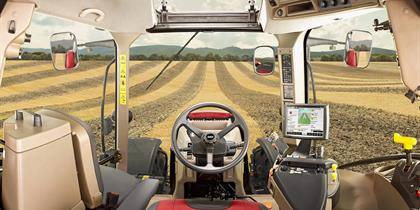 BEST PRACTISE
When you're managing your business from an office using the latest technology, you expect a certain standard of comfort – and with more and more farm management taking place from the field, Case IH brings that same standard to your tractor. For today's tractor operators, the office is the tractor cab, allowing them to manage multiple tasks, from controlling an implement to monitoring its performance and taking phone calls. With a Maxxum CVX, you can do all those things and more in the same standard of comfort you'd expect from any other office. Different seating options for all models take the strain out of long hours in the cab.

EASY TO CONTROL

The intuitive controls put pure power at your fingertips, giving you effortless control and stress free operation. Master your tractor's performance with the proven and ergonomic MulticontrollerTM, the precise instrumentation and clear displays, delivering power exactly where it's needed, when it's needed.

PERFECT LIGHTING

Early starts and late finishes are part and parcel of farming. That's why Case IH gives you yet more lighting power with the latest generation Maxxum CVX tractors. New roof styling incorporates a full 360-degree lighting package to ensure you can see not just what's ahead of you and how things are performing to the rear, but out to the extremities of your implement as well.
DESIGNED TO PERFORM

Capable of cutting any task down to size, at the heart of every Maxxum CVX tractor lies one of the industry's most modern, most frugal and most productive engines. With Case IH, there's no question of seeking outside sources of power – our engines come from our sister firm FPT Industrial, producer of some of the most respected powerplants in the business. From the 116 hp Maxxum 115 CVX to the 145 hp Maxxum 145 CVX (rated powers), all feature FPT engines, with four-cylinder 4.5 litre units in all models.

CVX STANDS FOR EFFICIENCY

Just like their larger cousins in the Case IH range, Maxxum tractors are available with CVX continuously variable drive technology, offering seamless travel from standstill up to 50 km/h, which can be achieved at a fuel-frugal 1,700 rpm. CVX transmissions use a DKT (doppel-kupplungs-technologie) double clutch system for optimal performance. However, CVX technology is about more than just efficiency; it's about ease of use, which is why we've ensured Maxxum CVX tractors are incredibly simple to operate, suiting them to all types of operator and operation.

MAXIMUM CAPACITY

Maxxum CVX offer up to four rear and three mid-mounted electronic remote valves. Colour coding makes remote valve operation easier, as does a new rear remote design laid out either side of the top link. A high capacity, pressure flow compensating, variable displacement piston pump is standard. It delivers 125 l/min of oil through a power beyond port or up to 100 l/min to any individual remote valve. With a lift capacity of up to 7,864 kg, Maxxum CVX models are more than capable of handling what's hitched up to them, whilst a 3,100 kg front linkage is optional.
MORE COMFORT BETTER TRACTION

The suspended front axle provides a more comfortable ride, increases traction and boosts fuel efficiency. On Maxxum CVX models the addition of a second accumulator provides greater comfort both in the field and on the road, plus improved traction on the land. A compact design gives Maxxum CVX tractors a turning circle of just 4.6 m. The dynamic fender turn to 30° that allows full usage of the wide steering angle.

PRECISION EQUALS PROFIT

Maxxum CVX tractors are available "AFS™ Accuguideready" and fitted with an AFS Pro 700™ touchscreen monitor. This means that your dealer can pre-install a fully automatic, integrated GPS/GLONASS guidance system to give you industry-leading precision in the field. Add a local RTK+ signal station and it points you directly to 2.5 cm pass-on-pass accuracy. Don't worry about line-of-sight signal reception; our software features the xFill app that bridges the RTK+ system for up to 20 minutes so the AFS system keeps its sense of direction even in the shadow of buildings etc.

LESS REPETITIVE, MORE PRODUCTIVE

Maxxum CVX models feature Headland Management Control II, which is designed to assist the driver when turning at the headland. Each step can be programmed either by time or distance travelled. In addition, certain triggers for various other automated functions can be set, such as lowering the engine speed after lifting the implement. A headland sequence can be taken while driving or programmed on the stand. With ISOBUS III is it possible for the implement to control the Maxxum CVX. It will automatically adjust forward speed, hitch position and PTO speed, as well as operating remote valves depending on the implement. The result is optimum efficiency of the implement and tractor.